David Cameron 'delighted' EU renegotiation under way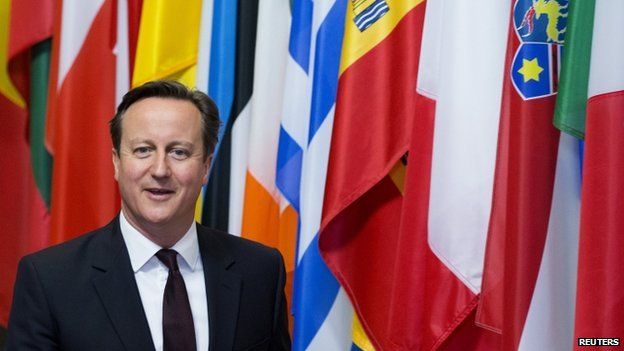 David Cameron says he is delighted the process of "reform and renegotiation" of the UK's membership of the EU is "properly under way".
The PM was speaking in the early hours after formally setting out his aims to EU counterparts in Brussels.
"People always say to me these things aren't possible…. Once again we have proved we will get them done," he said.
European Council President Donald Tusk said there was a will to help the UK, but basic values "were not for sale".
'Safe for all'
Mr Cameron wants to reform the UK's membership of the EU before holding an in/out referendum of the British public by the end of 2017.
He addressed fellow EU leaders at a summit dominated by the migrant crisis and Greek debt crisis.
Mr Tusk, who will oversee the membership negotiations, said talks would now start, before adding: "One thing should be clear from the very beginning: the fundamental values of the European Union are not for sale and so are non-negotiable.
"We should consider British concerns, but only in a way which will be safe for all of Europe. We'll come back to this in December."
'Battle of wills'
Italian Prime Minister Matteo Renzi said he agreed with the idea of a "more efficient" and "less bureaucratic" Europe.
"For this reason, the battle of wills is also our fight, our goal, our commitment," he said.
"We have some different ideas to those proposed by David, but tonight David simply presented his project of referendum.
"We agreed that at the council next December he will present to everyone a project for the relationship between Europe and the UK. It will be a good process."
Mr Cameron has accepted there may be no change to the EU's treaties to accommodate the UK's demands ahead of a referendum.
He has instead argued for "irreversible" and "legally binding" guarantees that EU law will be changed at some point in the future, says BBC political editor Nick Robinson.
Our correspondent says those who want to leave the EU believe that legal or treaty changes are necessary to deliver the prime minister's negotiating objectives.
'Full-on change'
This includes an opt-out on the core EU aim of "ever closer union", including boosting the sovereignty and powers of national parliaments, so groups of them can block proposed EU legislation.
Mr Cameron also wants to ensure benefits, such as tax credits, are withheld from migrants who have been in the UK for fewer than four years.
No 10 said the prime minister remained committed to "proper, full-on treaty change".
Analysis
By Ben Wright, BBC political correspondent
It was during the night's long, acrimonious discussion about Europe's migrant crisis that David Cameron was given time to set out his case. The prime minister's remarks to fellow EU leaders were brief and will not have been a surprise.
He had spoken to each of them in the weeks leading up to this summit – explaining why Britain will have an in/out referendum by the end of 2017 and sketching out his aims.
He has also made it clear Britain could leave the EU if he doesn't get a meaningful deal. For Britain, for Europe, this summit has marked a significant moment – and the start of official renegotiation talks between London and Brussels.
The prime minister of Malta said David Cameron "had worked the crowd well" over recent weeks. Italian Prime Minister Matteo Renzi was broadly supportive too but said EU leaders had some different ideas to those proposed by Mr Cameron.
There remains a big question mark over exactly what the prime minister will be asking for.
Aspirations such as new powers for national parliaments, a British exemption from "ever closer union" and efforts to curb EU migration to Britain through welfare changes will be controversial.
UKIP leader Nigel Farage said the prime minister was "accepting the inevitable" that there would be no treaty change.
He said there would be "nothing really fundamental in Britain's renegotiation of its membership".
"This doesn't look like a man on a mission who is determined to achieve something whoever he upsets," Mr Farage said.
Former Conservative Home Office minister Damian Green, a pro-European MP, said it was "perfectly sensible for the prime minister to leave his options open" to get the results he wanted.
'Signalling retreat'
But Labour's shadow foreign secretary Hilary Benn said Mr Cameron was "signalling retreat while pretending that all he ever wanted was a post-dated cheque".
Mr Benn said Mr Cameron had "made a mess" and "should have known what the position of other countries would be".
Tory MP Steve Baker, co-founder of Conservatives for Britain, said he and colleagues were "more concerned" about the "substance" of any new relationship between the UK and the EU "rather than the mechanism" which will deliver it.
This entry passed through the Full-Text RSS service – if this is your content and you're reading it on someone else's site, please read the FAQ at fivefilters.org/content-only/faq.php#publishers.