Jun. 29th, 2015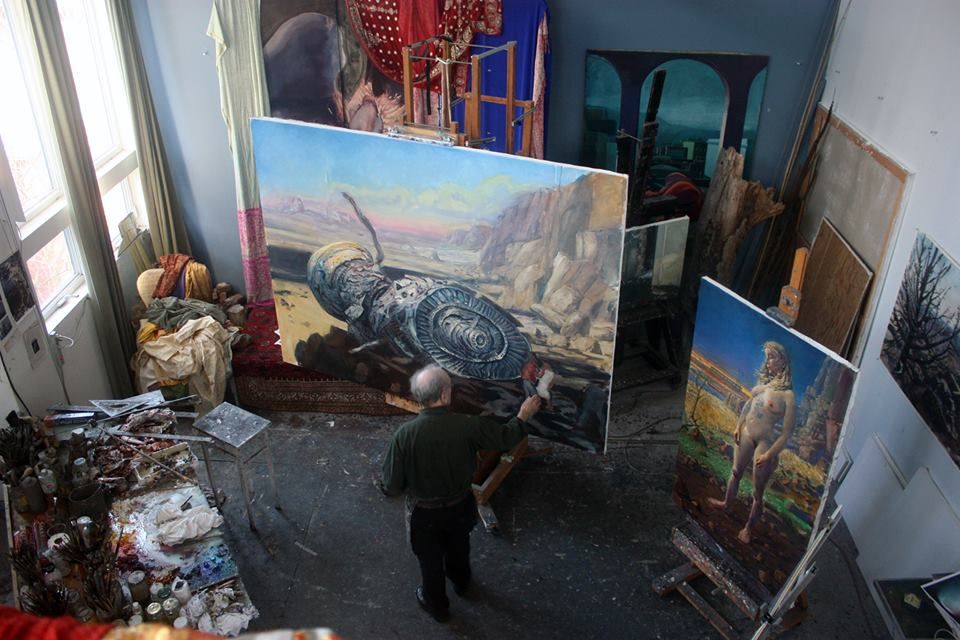 Photos Credit: Henk Pender
With mixed emotions, Henk Pander left his native dwelling in the Netherlands for Portland, Oregon. He was only 27 when he immigrated to the United States and although already having made his mark in the art world, Henk continued on with his creative lifestyle, drawing inspiration from a new land and a new life.
Henk Pander grew up with a successful and influential artist as a father. His childhood was spent visiting museums and taking in classic Dutch artwork. It was a life brimming with innovation and experience. Primarily an en plein air ("in the open air") artist, he mixes mediums, environments and emotions. Pander's works are in many collections, including those of the Rijksmuseum (Amsterdam), Museum Henriette Polak (Zutphen, The Netherlands), City of Amsterdam, City of Portland, Jet Propulsion Laboratory (Pasadena), Portland Art Museum, Frye Art Museum (Seattle), Jordan Schnitzer Museum of Art (University of Oregon), and Hallie Ford Museum of Art at the Willamette University (where a fifty-year retrospective exhibition of his work was shown in 2011).
We recently sat down with Pander to learn all about his artistic viewpoint.
JustLuxe: Who are your artistic influences?
Henk Pander: My aesthetic values were formed very early on as a young child. My father, Jaap Pander, was a talented, charismatic artist in Haarlem, The Netherlands, who became widely known as a bible illustrator and who had a studio at home. So I was exposed to drawing, portraiture, working from the imagination as a young child. As a seven-year-old boy, shortly after the war, my father took me to Amsterdam to the recently reopened Rijksmuseum and saw the great Dutch paintings such as Rembrandt's "Nightwatch". […] German Expressionism, French Surrealism, and Fauvism have also had great effect. The painter Goya has been of lasting influence both in making grand manner portraits and simultaneously making paintings and drawings responding to the turbulent times he lived in.
After I immigrated, I found the scale of American painting very stimulating, they reflected on the vastness of America. Later on in the '80s my exposure to the works of Anselm Kiefer in Paris stimulated an internal conversation about WWII and in response to that, I started making war memory paintings about my childhood experiences during the bitter final year of the Nazi-occupation of the Netherlands.
JL: You are originally from the Netherlands. What was the transition like, immigrating to Portland, Oregon?
HP: The transition was both at once exhilarating and terrifying. My post-academy years as an emerging artist in Amsterdam were quite successful. I had commissions from the Dutch Government, the National Railways, won a number of awards and was secure of my place in Dutch culture. Coming to Portland in the mid '60s, a small town with a small art community, was very stressful—most of all because there was little affinity or connection between my background and my work, and what was happening at the time in the local art community. […]
At the same time, it freed me from the social pressure and safety of Holland and allowed me a great deal of personal freedom which enabled me to experiment and do things I would not have thought of in the Netherlands. A period of creativity began by making this culture my own.
JL: Do you have a preferred medium?
HP: The various media that I work in are interconnected and feed each other. Drawing is at the basis of everything I do and is very important. It allows me to instantly formulate my thoughts and my visual imagination into images. Watercolor, which exists in a realm between drawing and painting, is an exemplary medium for working directly from life and nature spontaneously. My father was a fine watercolorist and I was painting outdoors from the time I was a nine-year-old child […]. The technique itself is of great elegance and it introduces the element of color and luminosity to the work. 
JL: As an en plein air artist, do you find that there is a consistent atmosphere or environment that you are drawn to?
HP: Yes, I tend to be drawn to very spatial landscapes, primarily in the American desert; landscapes which are so different from the original Dutch landscape that I used to paint. There is a minimal element about the desert reduction, which makes objects become very vivid and metaphoric. I'm drawn to the tension between technology and the wilderness. I also often seek out memories of WWII as they still exist in the landscape as remnants, whether it be here or in Europe, as I […] am a remnant of that war. I exclusively make fairly large watercolors on location. I use my van and my trailer to go on excursions by myself.
JL: How have you transitioned from creating paintings off of sketches and photographs, to building these paintings without the use of visual aids?
HP: Lately, I have been moving more in the direction of letting go of direct references, especially photographs. Historically, before the advent of photography, all art was done without photographic reference and it allows for far more freedom in terms of liberating the imagination. Freely drawing on a surface also has an automatic compositional edit. It makes instantly a composition without getting lost in irrelevant detail. 
This entry passed through the Full-Text RSS service – if this is your content and you're reading it on someone else's site, please read the FAQ at fivefilters.org/content-only/faq.php#publishers.